Hi everyone!
It's been a good 5 months since I last gave a nice overall summary of our progress on things, so here we go.
Game Related:
You know that throwaway server we've been talking about?  Well, we're just about ready to throw it away!  Well, not really throw it away; it'll still be a playground to figure things out for a while, but we're actually ready to start working on the actual thing!  Aroha has put a lot of work into the high level design while we've been picking away at the throwaway server, so keep tuned for further details soon.  (I'll pester him into making another one of his Dev Log posts.)
Of less importance, but more fun, is the fact that we got a lot more features working.  Just some of the highlights include the home streets and interiors along with towers (expect a video from me soonish!), hi5 signs, GPS features on the main map, triggers (physics and such), and I'm sure I'm missing a bunch!
The QA team under LadyCeres is still tweaking the locations of different items with input from their fake forums while also cataloging the way street spirits should look around the world of Ur.  To put that second part into perspective, each street spirit is made up of several customizable parts, which leads to an absurd number of possible combinations, but only a smaller subset actually make any sense, since some of the different styles simply don't physically match up. You an expect a blog post about how the world of Ur is coming together soon!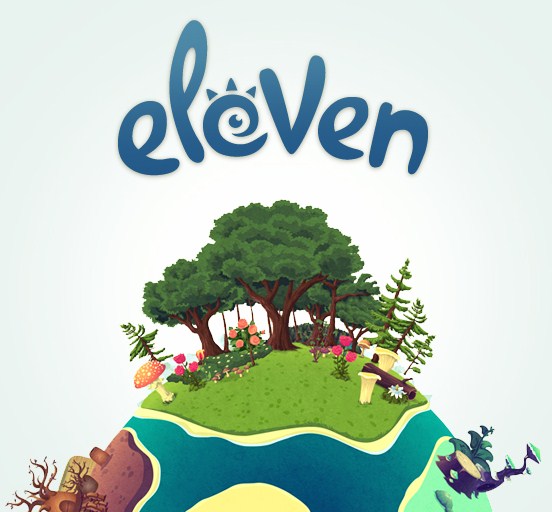 We have a new logo made by none other than Kukubee himself!  He was awesome enough to make us our very own logo with similar styling to the Glitch one, but with it's own unique feel to it.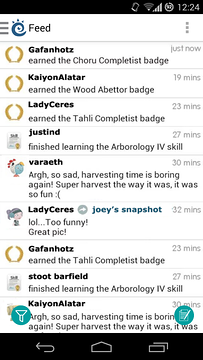 Work has even started on the Android version of the Eleven app based on the Glitch HQ app that TinySpeck had.  Gafanhotz has been hard at work making it look really slick while the server infrastructure is still being developed to help drive the app.
Website Related: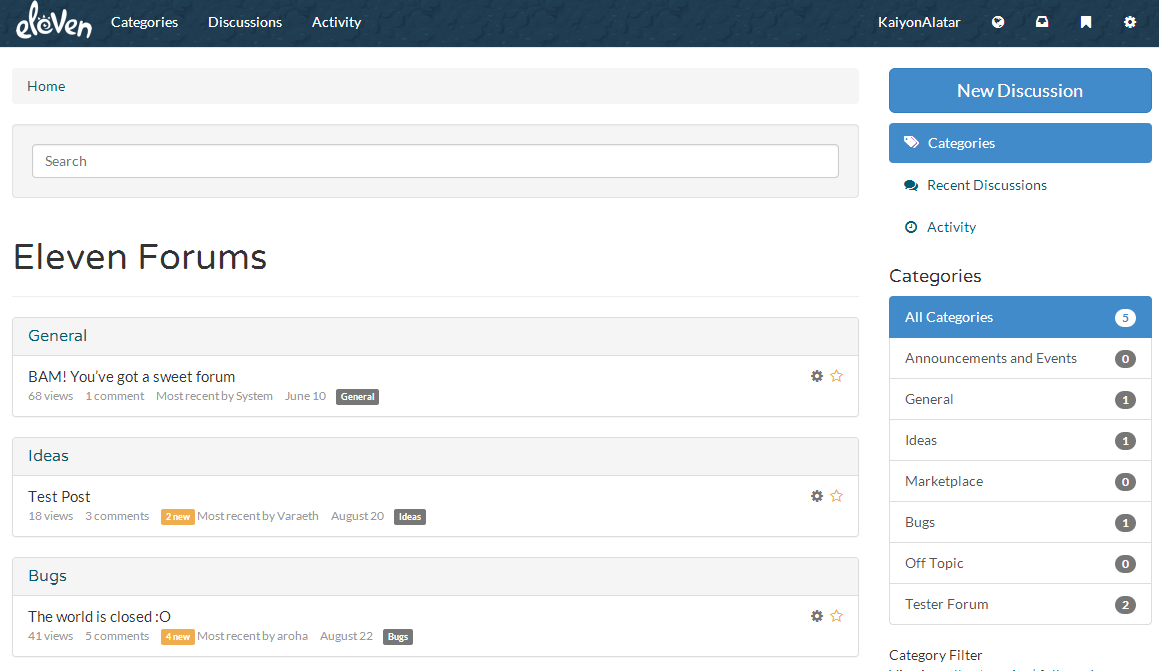 The forums are getting very close to internal testing, which means they're also close to a public release!  Varaeth has been hard at work getting the whole website infrastructure set up to allow us to incorporate the forums with the game, vanity, wardrobe, etc…  I can hardly wait to be able to start interacting with everyone in a more direct manner.  Expect an update soon when internal testing starts.
I'm sure you've all already seen Joey's video showing off the new combined wardrobe and vanity.  If not, what are you waiting around for, get over there and take a look!  Gone are the days of having to go back and forth between two tools to update your overall appearance; it's all in one now, baby!  We're still considering some extra features, such as customizing the color of some of the different pieces of clothing, so let us know what you think.  This is even something we could consider rolling out to public testing soon.  Stay tuned for more details!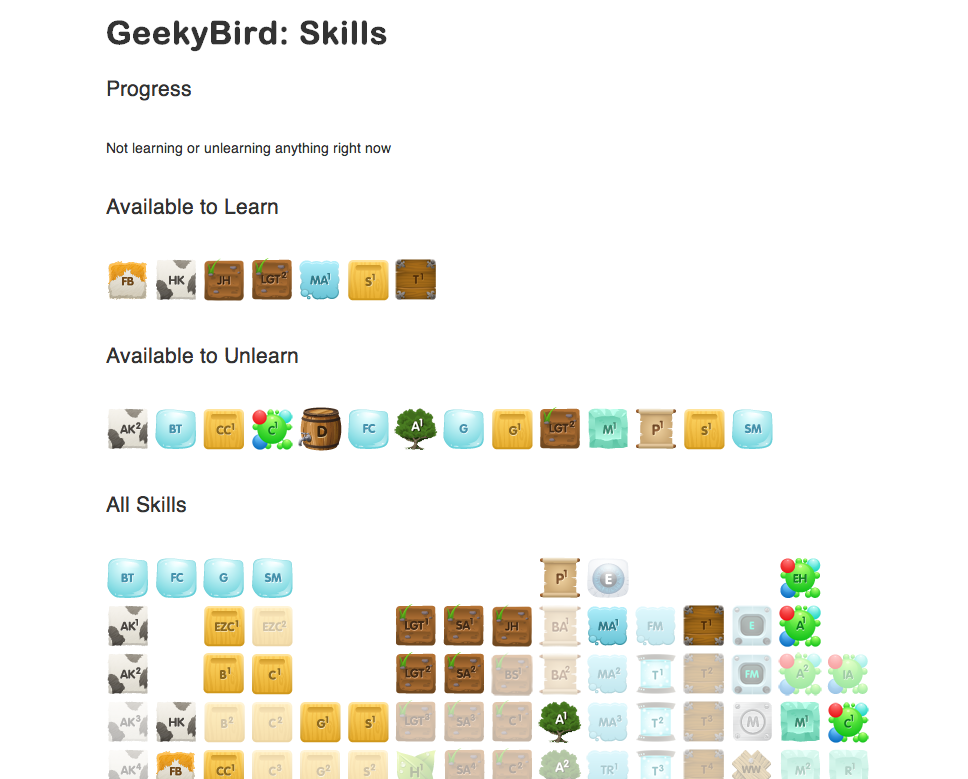 We've got an early concept for our skills page as well, thanks to RedBirdo.  Once we get the forums rolled out, we can begin integrating these important game-related features with the rest of the website.
Bottlenecks:
I'll go over some of the bottlenecks from my last big post along with an update on where we are (some of which may have been mentioned above already), along with some new things.
Logo – Done!  Thanks Kukubee!
Vanity and Wardrobe – Mostly done!  Turnip started off the efforts to determine how it worked in the background for TinySpeck, and Joey helped finish it off by creating an amazing new interface.  We've got a little more behind the scenes work to handle in order to get the spritesheets generated (and put in the right spot for the game to pick up), but the main work has been finished!
God Pages – We've stalled a bit here, but have a small set of pages to start from.  Soon, we'll need to pick this back up as a higher priority, and really start to consider the scope we want to include in our version of the system.  We'll try to blog some details of this effort at some point.
Authentication – Just about done!  Varaeth is just working out some of the last details before we can start the forums testing.
Pathfinding – Still waiting.  There have been bigger fish to fry, so it keeps getting pushed aside.  If anyone has some experience in this area and would like to join our little team to take a stab at it, let us know!
Other Notes:
"Can we come it and play yet?"  – Unfortunately not yet, but we're getting closer with every step we take.  The rollout of the forums and wardrobe/vanity and the fact that we're gearing up to start working on the 'real' game server should be good signs, so keep your eyes fixed here.
"Shut up and take my money!!!" – Patience, friends.  We still don't have a great demand for income, since servers are really our only expense right now, and we've got that pretty well covered.  We're also evaluating options on how to take donations once we start needing them, as well as considering options for Eleven merch.  As always, stay tuned here for more details.
Final Notes:
Again, I'd like to thank all of our amazing friends.  Tiny Speck, Kukubee, Jade, Danny, Brandon Brown, Xavier and many more that I'm sure I'm forgetting.
Things are slowly coming together, and I'm still insanely proud to be able to lead such a great team of people.  It's amazing how well people can work together when they have a common goal!
Sincerely,
Your Chief Chicken Tamer,
Jim 'KaiyonAlatar' Condren